November 2018 Events
18th Annual Hernando County Residents Reception
Nov 2, 2018 05:00 PM to Nov 2, 2018 08:00 PM
Celebrate Hernando County at the

As a resident, we're sure you have many questions about Hernando County. Questions about schools… safety and law enforcement… roads and local government… healthcare… and naturally… where to shop, eat and play.

To help answer these questions, plan on attending the Greater Hernando County Chamber of Commerce's 18th Annual Hernando County Residents Reception.

Meet representatives from Hernando County's Board of Commissioners, Sheriff's Office, Property Appraiser, Tax Collector, Clerk of the Court, Supervisor of Elections and School Board and City of Brooksville elected officials.

Local restaurants will offer free samples of their "signature items", the food for which they are best known for! You will also have the opportunity to meet many of our local businesses who are members of the Greater Hernando County Chamber of Commerce!

Take advantage of the FREE admission and discover absolutely, positively the many advantages to living in Hernando County!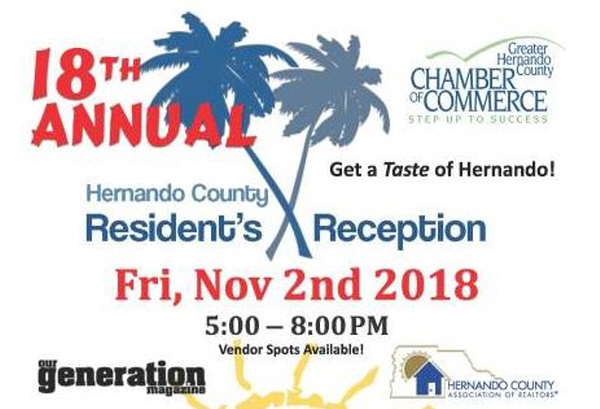 Clearwater Fall Wellness Fair
Nov 3, 2018 09:00 AM to Nov 3, 2018 01:00 PM
The Clearwater Fall Wellness Fair will feature free screenings, interactive exhibits, demonstrations, product samplings and more!
This is a Free Event that will be held at the Countryside Recreation Center, 2640 Sabal Springs Drive, Clearwater, FL. 33761.